Xiaomi Redmi 12C – A Reliable Smartphone With a Powerful Processor
Xiaomi introduces the new Redmi 12C series with an expanded storage option of 128GB, making it a complete package for users seeking a powerful phone with ample memory at an affordable price. The Redmi 12C series offers users the convenience of storing a greater number of applications, photos, music, and videos without the concern of running out of storage space. Furthermore, the device's powerful processor and larger RAM size make it an excellent choice for multitasking and resource-intensive tasks.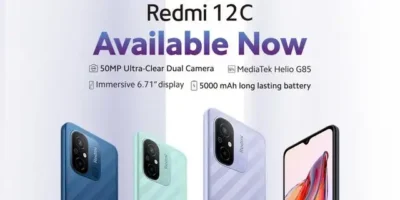 Ample Storage and Expandable Memory
The Xiaomi Redmi 12C caters to users' need for additional storage with its generous 128GB internal storage option. This allows users to store a vast array of files, media, and applications without limitations. Additionally, the device features a dedicated memory card slot, enabling users to expand the phone's memory capacity as needed, providing even more flexibility.
Powerful Performance for Seamless Multitasking
Equipped with 4GB of RAM, a MediaTek MT6769Z Helio G85 (12nm) chipset, and an Octa-core CPU, the Xiaomi Redmi 12C delivers a smooth and lag-free performance. Users can effortlessly run multiple applications simultaneously without experiencing any slowdowns or performance issues. This makes the device ideal for multitasking and handling demanding tasks with ease.
Impressive Photography Experience
The Redmi 12C offers an impressive photography experience with its triple camera setup on the back. Boasting three 50MP cameras, users can capture stunning and highly detailed photos. On the front, a single 5MP selfie camera allows for effortless capturing of breathtaking moments with ease.
Immersive Display with Enhanced Protection
The Redmi 12C features a large 6.7-inch IPS LCD capacitive touchscreen display. With a resolution of 720 x 1650 pixels, users can enjoy a user-friendly viewing experience with vibrant visuals. Additionally, the display is protected by Corning Gorilla Glass, ensuring durability and resistance against scratches. With 500 nits of extra brightness, the display offers excellent visibility even in bright outdoor environments.
Long-lasting Battery for Extended Usage
With its substantial 5000mAh battery capacity, the Redmi 12C is designed to last all day on a single charge. Users can enjoy extended usage without the need for frequent recharging, providing ample time to accomplish tasks, browse the web, and enjoy multimedia content on the go.
Competition in the Smartphone Market
The Xiaomi Redmi 12C poses as a strong contender in the smartphone market, attracting the attention of other manufacturers, including Samsung. With its reliable performance, ample storage, impressive camera capabilities, immersive display, and long-lasting battery life, the Redmi 12C offers a compelling option for users seeking a reliable and feature-rich smartphone at an affordable price point.
Stay tuned for further updates on the availability and release of the Redmi 12C, a smartphone that combines power, storage, and affordability.
FAQs
1. What is the internal storage capacity of the Xiaomi Redmi 12C? The Redmi 12C offers an internal storage capacity of 128GB, allowing users to store a large number of files, media, and applications.
2. Can the storage capacity of the Redmi 12C be expanded? Yes, the Redmi 12C features a dedicated memory card slot that supports expandable memory. Users can increase the storage capacity by adding a compatible memory card.
3. What is the RAM capacity of the Xiaomi Redmi 12C? The Redmi 12C is equipped with 4GB of RAM, providing smooth and efficient multitasking capabilities.
4. How many cameras does the Redmi 12C have? The Redmi 12C features a triple camera setup on the back, consisting of three 50MP cameras. Additionally, it has a 5MP front-facing camera for capturing selfies.
5. What is the battery capacity of the Xiaomi Redmi 12C? The Redmi 12C is powered by a 5000mAh battery, offering long-lasting usage on a single charge.