Xiaomi Redmi 10A – A Mid-Range Powerhouse
Xiaomi has always been known for its affordable smartphones packed with powerful features. And now, the company is set to release its latest addition to the Redmi A-series, the Xiaomi Redmi 10A. With its impressive specs and features, the Redmi 10A is expected to give tough competition to its rivals in the mid-range smartphone market.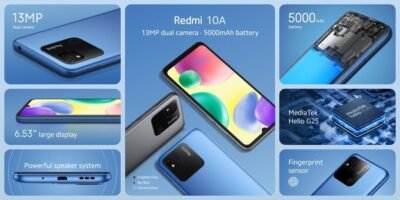 Chipset and Processor
The Xiaomi Redmi 10A will come with a PowerVR GE8320 chipset and a 2.0 GHz Octa-Core processor. The combination of these two powerful components will ensure that the device runs smoothly and efficiently, making multitasking a breeze.
Display
The Redmi 10A boasts a 6.53-inch IPS LCD Capacitive Touchscreen display, providing users with full HD plus resolution of 720 x 1600 pixels. The screen size is perfect for watching movies, playing games, or browsing the internet, making it an ideal device for entertainment purposes.
RAM and Internal Storage
The smartphone will be available in two RAM variants, 3GB and 4GB. The higher RAM capacity will allow users to run multiple apps simultaneously without any lag. In terms of internal storage, the Redmi 10A will come in two variants, 64GB and 128GB. With such a massive storage capacity, users can store all their data, files, and media files without worrying about running out of space.
Camera
The Xiaomi Redmi 10A will have a dual-camera setup with sensors of 13 + 2 megapixels. With this powerful camera setup, users can take stunning photos and videos with excellent clarity and sharpness. The 5-megapixel front-facing camera is perfect for taking selfies and making video calls.
Security and Battery
The device will have a rear-mounted fingerprint sensor to provide maximum security to users. Additionally, the 5000mAh battery will provide enough power to keep the device running for a full day. With 10W fast charging, users can quickly charge their device without having to wait for hours.
Conclusion
Overall, the Xiaomi Redmi 10A is an impressive mid-range smartphone with powerful specs and features. With its competitive pricing, this device is expected to give tough competition to its rivals in the market.
FAQs
Q1. What is the expected price of Xiaomi Redmi 10A?
The exact price of the device is not yet known. However, it is expected to be priced around $150 to $200.
Q2. Does the Xiaomi Redmi 10A have expandable storage?
Yes, the device has a dedicated microSD card slot that supports up to 512GB of expandable storage.
Q3. Is the Xiaomi Redmi 10A waterproof?
No, the device is not waterproof.
Q4. Does the device have a headphone jack?
Yes, the device has a 3.5mm headphone jack.
Q5. What colors will the Xiaomi Redmi 10A be available in?
The device will be available in three colors, namely Sea Blue, Granite Gray, and Pebble White.