Vivo V23 5G – An Impressive Addition to Vivo's V-Series Smartphone Lineup
Vivo, the Chinese tech giant, has yet again stunned the smartphone market with its latest addition to the V-series, the Vivo V23 5G. Launched in 2022, the smartphone comes with a host of impressive features that put it in direct competition with the likes of Samsung and other mid-range smartphones. Let's take a closer look at what this new device has to offer.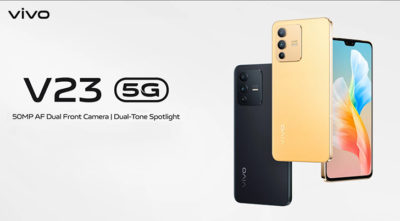 Design and Display
The Vivo V23 5G boasts a sleek and modern design with a 6.44-inch AMOLED capacitive touchscreen display. The screen offers a full HD resolution of 1080 x 2400 pixels, making it perfect for streaming videos, playing games, and browsing the web. The device's screen-to-body ratio is an impressive 91.4%, providing an immersive viewing experience.
Performance and Storage
The smartphone is powered by a MediaTek Dimensity 920 SoC, which is paired with 12GB of RAM. This powerful combination ensures that the device can handle even the most demanding tasks with ease. The Vivo V23 5G also has an internal storage capacity of 256GB, providing ample space for all your apps, photos, and videos.
Camera
The Vivo V23 5G comes equipped with a triple camera setup on the rear. The main camera is a 64-megapixel sensor, while the other two are an 8-megapixel and a 2-megapixel sensor. The front-facing camera is a dual setup consisting of a 44-megapixel sensor and an 8-megapixel sensor. With these cameras, you can capture stunning photos and videos, even in low light conditions.
Battery and Charging
The Vivo V23 5G is powered by a 4200mAh battery that provides all-day battery life. Additionally, the smartphone comes with a fast-charging feature that can charge the device to 100% in just 44 minutes.
Security
To protect your data, the Vivo V23 5G has an under-display optical fingerprint scanner. This advanced security feature ensures that only you have access to your device's data.
Price and Availability
The Vivo V23 5G is priced at $499 and is available for purchase on various online and offline stores.
Conclusion
Overall, the Vivo V23 5G is an impressive mid-range smartphone that comes with a host of features that put it in direct competition with other popular smartphones. The device's powerful processor, ample storage capacity, and stunning camera setup make it a great choice for anyone looking for a reliable and feature-packed smartphone.
FAQs
Q1. Does the Vivo V23 5G support 5G connectivity?
Yes, the Vivo V23 5G comes with 5G connectivity, which provides faster internet speeds and a more stable connection.
Q2. Does the device come with expandable storage?
No, the device does not support expandable storage. However, the 256GB internal storage capacity should be enough for most users.
Q3. What version of Android does the Vivo V23 5G run on?
The Vivo V23 5G runs on the latest Android 11 operating system.
Q4. Is the device waterproof?
No, the device is not waterproof. It is recommended to keep the device away from water and other liquids.
Q5. Does the device support wireless charging?
No, the device does not support wireless charging. However, the fast-charging feature makes up for it.