Samsung Galaxy A03 – Powerful Specs on a Budget | Full Review
Samsung is set to launch its latest smartphone, the Samsung Galaxy A03, which will feature powerful specs at an affordable price. This new budget smartphone from Samsung is expected to hit the market soon, and it's already generating a lot of buzz among smartphone enthusiasts. In this article, we'll take a closer look at the Samsung Galaxy A03's specifications, features, and what sets it apart from other budget smartphones on the market.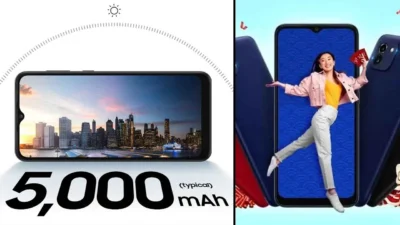 Unisoc T606 Chipset
The Samsung Galaxy A03 will be powered by the Unisoc T606 chipset, which is a low-end chipset that was specifically designed for budget smartphones. Despite being a low-end chipset, the Unisoc T606 is surprisingly powerful and can handle most day-to-day tasks with ease. Additionally, the Samsung Galaxy A03 comes with an ARM Mali-G57 MP1 GPU, which further enhances the phone's graphical capabilities.
Big Screen Size and Full HD+ Display
The Samsung Galaxy A03 boasts a 6.5-inch PLS LCD capacitive touchscreen with 16M colors and multitouch support. The display has a Full HD+ resolution of 720 x 1600 pixels, which makes it perfect for streaming high-quality videos, playing games, and browsing the web. The screen is also protected by Corning Gorilla Glass, which is the latest screen protection technology.
3GB/4GB RAM and 32GB/64GB Internal Storage
The Samsung A03 comes in two variants, one with 3GB RAM and 32GB internal storage, and another with 4GB RAM and 64GB internal storage. Both variants come with a dedicated slot that supports up to 1TB of additional storage, which means you'll have plenty of space to store all your important files, photos, and videos.
Dual Camera Setup and 5MP Selfie Camera
The Samsung Galaxy A03 features a dual-camera setup, which includes a 48-megapixel primary sensor and a 2-megapixel sensor. The camera setup is capable of capturing stunning photos and videos, even in low-light conditions. The phone also features a 5-megapixel selfie camera, which is perfect for capturing high-quality selfies and making video calls.
Android 11 Operating System
The Samsung A03 runs on the latest Android 11 operating system, which is known for its speed, efficiency, and user-friendliness. The operating system comes with several new features, including a redesigned notification panel, a new power menu, and improved security features.
Big Battery and 7.75W Charging
The Samsung Galaxy A03 comes with a big 5,000mAh battery, which can last for an entire day on a single charge. The phone also supports 7.75W charging, which means you can charge your phone quickly and get back to using it in no time.
Conclusion
The Samsung A03 is a powerful budget smartphone that offers a lot of value for its price. With its powerful Unisoc T606 chipset, big screen size, full HD+ display, dual-camera setup, and big battery, this phone is perfect for users who want a reliable smartphone that won't break the bank.
FAQs
What is the price of Samsung Galaxy A03?
The price of Samsung Galaxy A03 Rs 28,000 and 41,500.
Is Samsung Galaxy A03 worth buying?
Samsung A03 is a good option for those who are looking for a budget smartphone with powerful specs. It offers a 6.5 inch big screen, a powerful Unisoc T606 chipset, 3 GB or 4 GB RAM variants, 32 GB or 64 GB internal storage, and a 5000mAh battery. It also features a dual camera setup with a 48 MP main sensor and a 5 MP selfie camera.
What is the operating system of Samsung Galaxy A03?
Samsung A03 runs on the Android 11 operating system.
Does Samsung Galaxy A03 support fast charging?
Samsung A03 supports 7.75W charging, which may not be considered fast charging by some users. However, the 5000mAh battery can provide a full day of use.