Oppo A96 – A Powerful A-Series Smartphone
Chinese smartphone giant Oppo is back with another powerful device from its A-series. The upcoming smartphone is named Oppo A96 and is expected to be launched in China soon. It is a mid-ranger that is designed to impress with its impressive specs and features. In this article, we will delve into the details of Oppo A96 and see what makes it stand out from the crowd.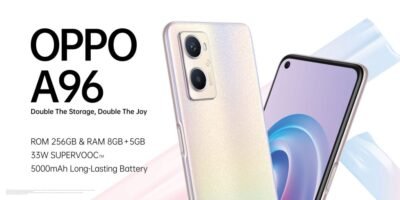 Design and Display
The Oppo A96 comes with a sleek and modern design that is sure to turn heads. The phone features an IPS Capacitive Touchscreen display that is exclusively made for Oppo devices. The screen measures 6.59 inches and has a full HD resolution of 1080 x 2412 pixels. This means you can expect sharp and vibrant visuals that will enhance your viewing experience.
Performance
Under the hood, Oppo A96 is powered by the Qualcomm Snapdragon 680 SoC chipset. It is a powerful chipset that is capable of handling all the specs of upper-class smartphones. To make things even better, there is a 2.4 GHz Octa-Core processor installed in the handset. This ensures that the phone is lightning fast and can handle even the most demanding tasks with ease.
The phone also comes with 8GB of RAM, which is paired with the chipset to give you a smooth and seamless experience. This means that multitasking and running heavy apps won't be an issue on Oppo A96. Additionally, the phone has an internal storage capacity of 128GB, which should be more than enough for most users.
Camera
The Oppo A96 comes with a Dual Camera setup on the rear, which comprises a 50-megapixel main camera and a 2-megapixel secondary camera. The camera is capable of capturing stunning photos and videos in any lighting condition. On the front-facing side, there is a 16-megapixel selfie camera that can take some great-looking selfies.
Security and Battery
To protect your data, Oppo A96 features an under-display, optical fingerprint scanner. This ensures that only you can access your phone and your data is safe and secure.
The phone is fueled by a powerful 5000 mAh battery, which means that you can use the smartphone for a long period of time. Additionally, there is fast battery charging in A96 by Oppo, which means that you can charge your phone quickly and get back to using it in no time.
Conclusion
The Oppo A96 is an impressive smartphone that is packed with features and specs that are sure to impress. It is a mid-ranger that can compete with some of the upper-class smartphones in terms of performance and design. With its powerful chipset, great camera, and long-lasting battery, Oppo A96 is definitely a device to watch out for.
FAQs
Q1. When will Oppo A96 be launched in China?
A1. Oppo A96 is expected to be launched in China soon.
Q2. What is the price of Oppo A96?
A2. The price of Oppo A96 has not been announced yet.
Q3. What is the battery capacity of Oppo A96?
A3. Oppo A96 comes with a 5000 mAh battery.
Q4. Does Oppo A96 have a fingerprint scanner?
A4. Yes, Oppo A96 has an under-display, optical fingerprint scanner.
Q5. What is the screen size of Oppo A96?
A5. Oppo A96 features a 6.59-inch IPS Capacitive Touchscreen display.