Infinix Zero 20 – The Ultimate High-End Smartphone
Infinix, the Hong Kong-based smartphone manufacturer, has been producing budget-friendly phones for the past few years. However, with the latest addition to its Zero series, Infinix Zero 20, the company is stepping up its game to cater to the high-end smartphone market. The device packs impressive hardware specs, a large display, and an advanced camera setup, making it a top contender in the market. Let's dive deeper into the details of Infinix Zero 20.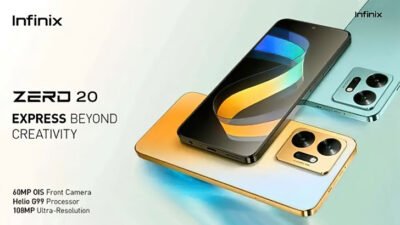 Helio G99 SoC – A Powerful Processor
The Infinix Zero 20 is powered by a Helio G99 System on Chip (SoC), which is the most powerful chipset by MediaTek. The device has an Octa-core processor clocked at 2.2 GHz, which provides lightning-fast processing speed. Furthermore, the Mali-G57 MC2 GPU enhances the device's graphics performance, making it perfect for high-end gaming and other graphic-intensive tasks.
6.7 Inches AMOLED Display
The smartphone has a massive 6.7 inches AMOLED capacitive touchscreen display with a full HD plus resolution of 1080 x 2400 pixels. The AMOLED technology is well-known for its outstanding results, offering vibrant colors and deep blacks. The display is perfect for gaming, streaming, and other entertainment purposes.
8GB RAM and 256GB Internal Storage
Infinix Zero 20 comes with a gigantic 8GB RAM capacity, which means the device can handle multiple apps and heavy usage without any lag. Moreover, the internal storage capacity of the device is 256GB, providing ample space for storing your favorite games, apps, and media files. You won't have to worry about running out of storage space with Infinix Zero 20.
Triple Camera Setup – 108MP Main Sensor
The device has a Triple camera setup on the rear, with the main sensor being 108 megapixels, accompanied by a 13-megapixel ultra-wide lens and a 2-megapixel depth sensor. The camera setup is perfect for capturing stunning photos and videos in any lighting conditions. On the front, there is a 60-megapixel selfie shooter that provides sharp and vivid selfies.
Under-display Fingerprint Reader
Infinix Zero 20 comes with an under-display optical fingerprint reader, which is the latest and safest way of unlocking your device. The reader is fast and accurate, allowing only authorized personnel to access the device.
Non-removable Li-Po 4500 mAh Battery
The device is fueled by a Non-removable Li-Po 4500 mAh battery that provides enough power to last you through the day. The battery supports fast charging of 45W, which means you can charge your device in no time and get back to using it.
Competing with Tech Giants
Infinix Zero 20 is a high-end smartphone that can easily compete with other tech giants such as Samsung, OnePlus, and Apple. With its impressive hardware specs, advanced camera setup, and large display, it offers a perfect blend of style and functionality.
Conclusion
In conclusion, Infinix Zero 20 is a high-end smartphone that packs impressive hardware specs, a large display, and an advanced camera setup. The device is perfect for gamers, streamers, and photography enthusiasts, providing them with top-notch performance and features. If you're in the market for a high-end smartphone, Infinix Zero 20 should definitely be on your list.
FAQs
Q1. Does Infinix Zero 20 support 5G?
No, Infinix Zero 20 does not support