Honor X6: The Future Handset Of The X Series | Unveiling Cutting-Edge Features
Honor X6, This latest release is expected to garner a positive response from consumers due to its cutting-edge features, including a large display, a powerful processor, and a long-lasting battery. With its competitive pricing, the Honor X6 is set to become an attractive option for budget-conscious consumers. Let's delve deeper into the remarkable features of this Honor X6 smartphone.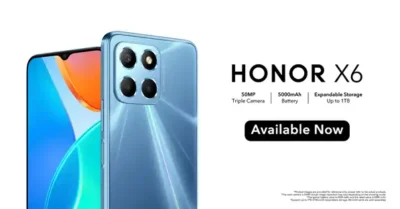 A Powerful Performer
The upcoming Honor X6 handset will be powered by the robust Mediatek MT6762G Helio G25 (12 nm) chipset and an Octa-core CPU. This powerful combination ensures smooth performance without any glitches or errors. Alongside this, the Honor X6 boasts 4GB of RAM and comes in two storage variants, namely 64GB and 128GB.
Additionally, it offers a dedicated memory card slot to expand the phone's memory capacity, providing ample space for all your files, apps, and media.
Brilliant Photography
One of the standout features of the Honor X6 is its triple camera setup. It includes a 50 MP primary sensor, accompanied by 2 MP and 2 MP sensors. This setup, combined with a brighter LED flash, enhances the quality of your photography, especially in low-light conditions. On the front, the X6 is expected to have a single 5 MP selfie camera that captures stunning high-quality images and videos.
Immersive Display
The Honor X6 is anticipated to feature a larger 6.7-inch TFT LCD display, providing an immersive viewing experience. With a resolution of 720 x 1600 pixels, this display delivers exceptional clarity, making it ideal for watching videos, browsing the web, and playing games.
Whether you're streaming your favorite content or engaging in productivity tasks, the X6's display offers vibrant colors and sharp details.
Long-Lasting Battery Life
To ensure that you can go through an entire day without worrying about charging, Honor's X6 is equipped with a robust 5000 mAh battery. This high-capacity battery offers excellent endurance and will last throughout your day, even with extensive usage. Whether you're working, gaming, or streaming, the X6 has the power to keep up with your needs.
A Competitive Edge
Honor aims to capture the market with its brand new X6 smartphone, presenting stiff competition for other brands, including Samsung and its competitors. With its impressive specifications and affordable price point, the X6 stands out as an enticing option for consumers looking for a feature-rich handset without breaking the bank.
In conclusion, the X6 is poised to be a game-changer in the smartphone market. Its combination of cutting-edge features, powerful performance, impressive camera setup, immersive display, and long-lasting battery life makes it a highly desirable device for tech enthusiasts and budget-conscious consumers alike.
FAQs
Q1. Does the Honor X6 support 5G connectivity?
A1. No, the X6 does not support 5G connectivity. It is designed to provide reliable 4G LTE connectivity for fast browsing, streaming, and communication.
Q2. Can the internal storage of the Honor X6 be expanded?
A2. Yes, the X6 comes with a dedicated memory card slot that allows you to expand the phone's storage capacity. This feature is convenient for users who require additional space for their files, photos, and videos.
Q3. Is the Honor X6 water-resistant?
A3. No, the X6 is not water-resistant. It is advisable to keep the device away from water and take necessary precautions to protect it from moisture and liquid exposure.
Q4. Does the Honor X6 have a fingerprint sensor?
A4. Yes, the X6 is equipped with a fingerprint sensor located on the back of the device. This sensor provides secure and convenient unlocking of the phone, ensuring that only authorized users can access it.
Q5. What operating system does the Honor X6 run on?
A5. The X6 runs on the Android operating system. It comes with the latest version of Android and the Honor user interface, offering a smooth and user-friendly interface for enhanced usability.