Samsung Galaxy A34 5G – New Device In A-Series of 2023
Samsung Galaxy A34 5G – Samsung is set to launch the highly anticipated Galaxy A34 5G in the near future. This new addition to the A-Series boasts impressive features and specifications that are sure to captivate smartphone enthusiasts. With its powerful MediaTek Dimensity 1080 chipset and a blazing-fast 2.6 GHz Octa-Core processor, the Samsung Galaxy A34 promises to deliver an unparalleled user experience. Let's delve into the key aspects of this device and explore what makes it stand out from the competition.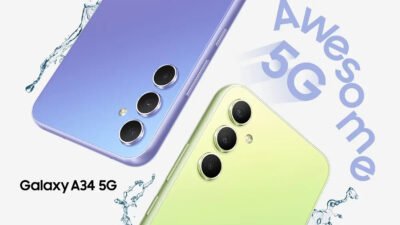 Stunning Display and Design
Samsung Galaxy A34 features a large 6.6-inch Super AMOLED Capacitive Touchscreen display, known for its vibrant colors and exceptional clarity. With a resolution of 1080 x 2400 pixels, users can enjoy full HD+ content with stunning detail. The display is protected by Corning Gorilla Glass 5, ensuring durability and resistance against scratches and accidental drops.
Powerful Performance
Equipped with 6 or 8 gigabytes of RAM, the Samsung Galaxy A34 5G guarantees smooth multitasking and seamless app navigation. This generous RAM capacity, typically found in high-end smartphones, enhances the overall performance of the device. Furthermore, users can choose between two internal storage variants: 128GB and 256GB. This ample storage capacity allows for the convenient storage of a vast amount of data, including photos, videos, and applications. If more storage is required, the device supports microSD cards of up to 1TB.
Impressive Camera Setup
The Samsung Galaxy A34 5G boasts a versatile triple camera setup, comprising a 48-megapixel main sensor, an 8-megapixel secondary sensor, and a 5-megapixel tertiary sensor. This configuration ensures exceptional image quality, allowing users to capture stunning photos and videos in various lighting conditions. Additionally, the device features a 13-megapixel front-facing camera, perfect for taking high-resolution selfies and making video calls.
Enhanced Security and Battery Life
To protect sensitive data, the Samsung Galaxy A34 incorporates an under-display optical fingerprint reader. This advanced security feature ensures that only authorized users can access the device, providing peace of mind and convenience. Powering the Galaxy A34 is a robust 5,000 mAh battery, offering extended usage time. Furthermore, the device supports fast battery charging, allowing users to quickly recharge their smartphone and get back to their daily activities.
Conclusion
The Samsung Galaxy A34 5G is an impressive addition to the A-Series lineup, offering powerful performance, a stunning display, and a versatile camera setup. With its sleek design and advanced features, this smartphone is poised to become a popular choice among tech-savvy consumers. Whether you're a photography enthusiast, a multitasking professional, or a casual user, the Galaxy A34 is designed to meet your needs. Stay tuned for its official release and experience the next level of mobile innovation.
FAQs
Q: Is the Samsung Galaxy A34 water-resistant? A: No, the Samsung Galaxy A34 does not have an official water-resistance rating. It is recommended to keep the device away from water and moisture to prevent any damage.
Q: Does the Samsung Galaxy A34 support 5G connectivity? A: Yes, the Samsung Galaxy A34 supports 5G connectivity, allowing for faster download and browsing speeds, provided you have access to a 5G network.
Q: Can the battery of the Samsung Galaxy A34 be replaced? A: The battery of the Samsung Galaxy A34 is not user-replaceable. If you encounter any battery-related issues, it is recommended to visit an authorized service center for assistance.
Q: Does the Samsung Galaxy A34 come with a headphone jack? A: No, the Samsung Galaxy A34 does not feature a dedicated headphone jack. However, it supports USB-C audio and wireless Bluetooth connectivity for audio output.
Q: Is there support for wireless charging on the Samsung Galaxy A34? A: Unfortunately, the Samsung Galaxy A34 does not support wireless charging. It can be charged using the included wired charger or compatible USB-C charging cables.